There is a bit of catching up fever going around here at the moment it seems. This time I have been working on another
Star of Africa Bee
block, those ones that frazzle my brain on a regular basis :)
Although I still haven't worked out
how
to do the blocks requested for March and May, I do know
what
I want to do for them. Veena's request for June, a flower block to represent your country, had me stumped though. Then whilst downloading Kristy's
Stash Cupboard
block for August in the
And Sew On
BOM, inspiration struck!
Ages ago I had downloaded from
Craftsy
a free
pattern
for a stained glass applique block of a rose inspired by the Glasgow Architect and Artist,
Charles Rennie Mackintosh
. Well if that wasn't perfect for a girl born in Glasgow what was?
I have always loved the work of Charles Rennie Mackintosh, and have had a book of his designs for a long time with the exact intention of translating some of them into stained glass applique blocks, so there was never going to be a better opportunity to give it a go.
My version of the rose will be soon be winging its' way to Veena in India.
My original intention had been to use ready-made fusible bias tape for the stained glass applique, but my local quilt shop was out of the black 1/4" tape that I needed. They did, however, have the equipment needed to make my own bias tape instead. So a quick trip to the shop and I was ready.
I found making the tape really fiddly at first, and discovered very quickly that a full-size iron is not the easiest of implements to work with when you are dealing with 1/4" wide fabrics. Fortunately, my fingers survived intact - just!
Now that I have the bias tape maker and the fusible tape I shall definitely be casting around for inspiration for some stained glass applique projects.
And speaking of inspiration, perhaps a visit to a museum or church will be your inspiration for a stained glass applique mini quilt entry in the
If you haven't already come across them all of the details of the competition, including the lowdown on all of the fabulous prizes up for grabs, are available
here
or by clicking the Holiday Memories page link at the top of the page.
Linking up to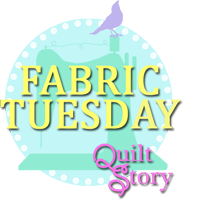 show and tell tuesday